Our first daffodil adventure was my mother's idea. Daffodil's are her favorite flower and an early herald of spring. The hunt for the happy yellow blossoms can be as simple or elaborate as you can imagine. In previous years, we've enjoyed Dallas Blooms presented by the Dallas Arboretum.
This year, we introduced my son to the tradition but an ugly flu season kept us from venturing too far. We enjoyed the little hints of spring from the warmth and safety of our car. In cozy pajamas we listened to a spring-inspired playlist and rolled through Starbucks for a treat.
I grabbed a Spring Scavenger Hunt and a clipboard for my youngest and for my aspiring artist, Draw A Daffodil and a sketchbook. She read one of my favorite Wordsworth poems and we struck out to find a little bit of color on a cold gray day.
-By William Wordsworth
"I wandered lonely as a cloud
That floats on high o'er vales and hills,
When all at once I saw a crowd,
A host of golden daffodils;
Bedside the lake, beneath the trees,
Fluttering and dancing in the breeze.
Continuous as the stars that shine
And twinkle on the milky way,
They stretched in never-ending line
Along the margin of a bay:
Ten thousand saw I at a glance,
Tossing their heads in sprightly dance.
The waves beside them danced; but they
Out-did the sparkling waves in glee:
A poet could not but be gay,
In such a jocund company:
I gazed–and gazed–but little thought
What wealth the show to me had brought:
For oft, when on my couch I lie
In vacant or in pensive mood,
They flash upon that inward eye
Which is the bless of solitude;
And then my heart with pleasure fills,
And dances with the daffodils."
It was a deliciously simple adventure and could be repeated with any local flower or add a picnic and a blanket.  Next time Bluebonnets!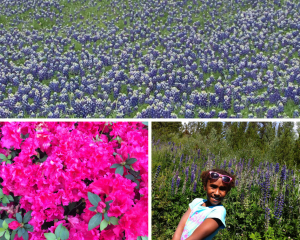 Happy Hunting!