"I
wish I could take you to New York for your birthday."  I sighed, in the early days of us.    Nine years and two children later we had frequent flyer miles and a cousin who promised to show us around his city. Children have only enriched our adventures but it's still sweet to get a little time together with my best friend.   Nate travels without much fuss or planning and since it was his birthday  I tucked a couple of addresses into my smart phone and away we went.    We wandered across the city. We strolled, biked, trained and taxied it.  Feasting on the epic personality that is New York.  In Central Park we passed John Goodman and Sarah Jessica Parker in Brooklyn we bumped into Patrick Stewart and David Costabile.    My advice keep your head up and your heart open.
Here a few of my favorite New York moments. Many thanks to my cousin Kelly for being so generous with your home and city.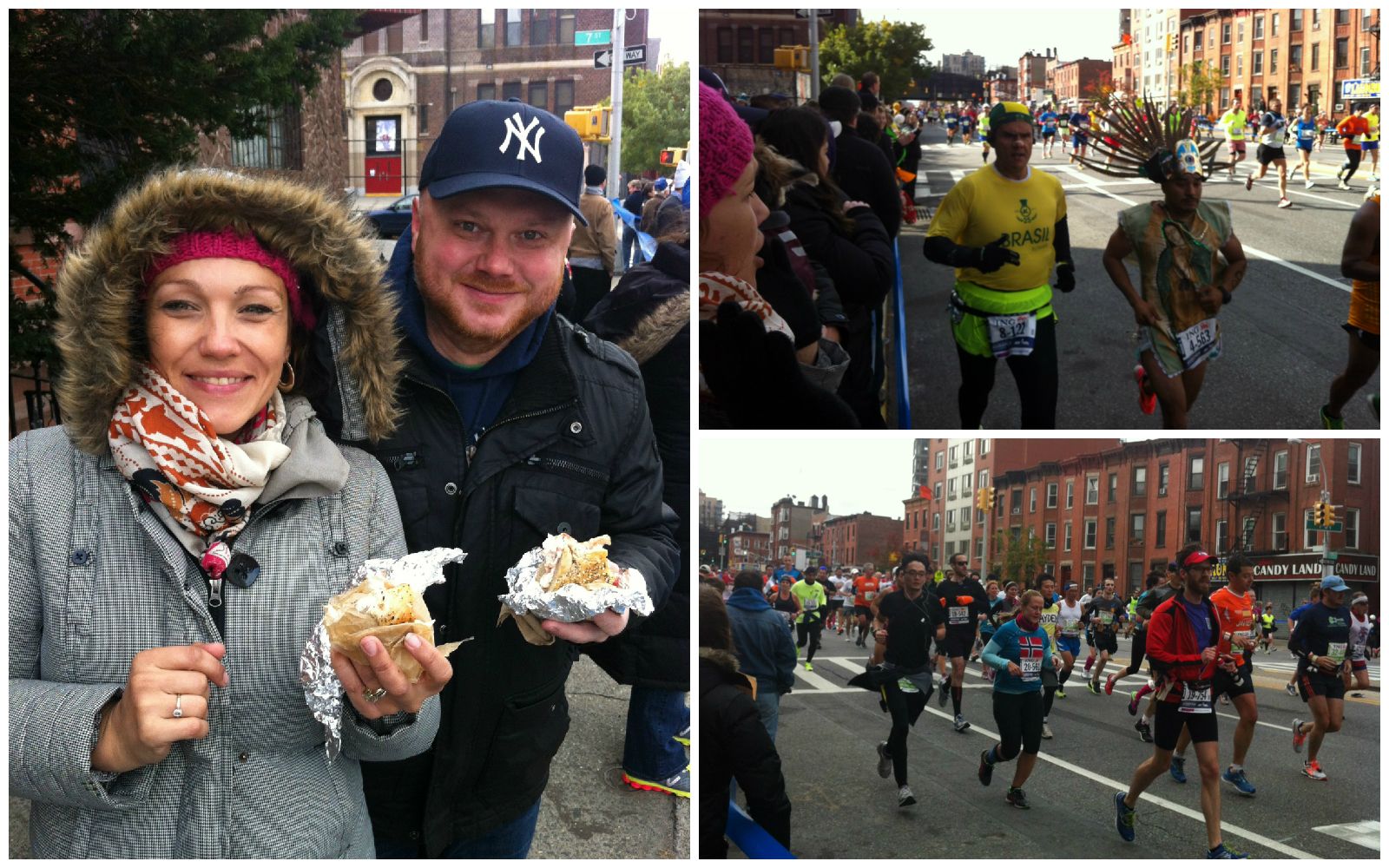 NY Marathon Don't miss the marathon if you're in town.  We got bagels in Brooklyn, camped out on the sidewalk next to the fire house band and had a great time cheering on the runners.  Most runners wear a sign or their names on their shirts.   I personally feel like I helped several people cross the finish line and since this is probably the closest I'll get to running a marathon, I had the time of my life.
East Village
McSorley's Old Ale House 15 E. 7th St., New York,  NY  10003
Oldest ale house in NY, they only serve beer. Even I drink beer here, you're participating in your nations heritage. Buy a drink for the NY Marathon runners too! They wear their medals with pride and deserve the carbs!
Angel's Share   8 Stuyvesant St., 2nd fl, New York,  NY  10003
A Japanese speak easy in the back of a noodle shop.  I'm not kidding, act like you know what you're doing and try a signature drink.
Ippudo Jappanese Noodle Brasserie 65 Fourth Avenue (Between 9th and 10th Street)
Ramen in its element–great memories and ambience!
St. Marks Bookshop 36 East 3rd Street just west of Avenue A.
Book stores are a great way to browse through the soul of a city.  They give you a feel for the interest and feel of a neighborhood, this is quintessential New York.
Brooklyn
Union Hall  702 Union Street, Brooklyn, NY 11215
Bocce and bar upstairs, comedy in the basement.  Stand-up comedy is one of my guilty pleasure. It's the toughest art form their is and when you're good you get to shine so much light into a culture.  Trevor Noah anyone? Check out a show here.
I've been to Asian Night Markets now but this one is experimental New York style, great way to work off dinner and absorb some culture.
Manhattan
Modern Museum of Art  11 West 53rd St, NY 10019
Don't think you like Modern Art? They have Monet, Van Gogh and Picasso to name a few as well. Plus the people watching is the best.
Central Park Bike Ride  117 58th St, NY
Walk, paddle, bike run, it's a magical bit of green surrounded by beautiful real estate. The Plaza Hotel and the Gugenheim to name a few.
Benoit Bistro  60 W 55th St, NY.
It's everything a French Bistro should be-you'll think your in Paris with the food and the prices. But you only live once right!!  Walk through Times Square and past a taping of the Today Show on your way.
Tons of restaurants and stellar holiday bizarre its a great place to get out of the rain or get your picture taken.
Queens
The best little Greek joint in the city, don't believe me ask Bill. Bill Murray & George Clooney go Greek! 
In the city for the weekend? Check out Tim Keller's Redeemer Presbyterian