The Silk Road is an exotic phenomenon and a place of wonder. In 2015, I was introduced to it while visiting friends in Kashgar. My mind kept telling me I was in China but my senses were experiencing the smells and sounds of the Middle East. It's mint tea, dates, Arabic calls to prayer, chopsticks, Mandarin and Sichuan peppers all rolled into one feast for the soul and tastebuds.
Our journey took us to the Taklamakan Desert and got me thinking about those early adventurers who traveled by camel across the 4,350 miles connecting China with the western world.  This Sichuan green bean recipe is a favorite recipe that I've brought home with me and mastered with the family in an attempt to recreate this explosion of flavors.
Half the fun of these spicy green beans is buying the spices at your local Asian market and grinding them at home. Our hosts told us they were also called 'numbing spice' because of the tingle they leave on your tongue! Delicious!
These beans are roasted instead of stir-fried giving them a crunchy flavor that's fabulous side dish with any simple stir fry, fish or grilled meat.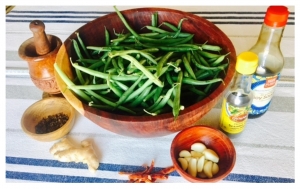 Silk Road Inspired Sichuan Green Beans
1 teaspoon toasted whole Sichuan peppercorns
3 tablespoons Sesame oil
6 whole dried small hot chili (such as árbol)
4 medium cloves garlic, minced (about 4 teaspoons)
1 tablespoon minced fresh ginger
3 scallions, white and pale green parts only, thinly sliced
1 pound green beans, trimmed
Kosher salt
2 teaspoons sugar (optional)
Splash of  soy sauce
The sugar actually tones down the spice making it family friendly.  We discovered this in Thailand. Simply adding a half teaspoon of sugar to your little ones dish can make a meal more palatable.
Directions:
Crush half of Sichuan peppercorns in a mortar and into a fine powder. In a medium skillet, heat 2 tablespoons Sesame oil, remaining whole Sichuan peppercorns, and dried chilies over medium-low heat, stirring frequently, until sizzling and aromatic, about 2 minutes. Add garlic, ginger, scallions, and chili's and soy sauce, cook, stirring, until aromatic, about 1 minute. Remove from heat and set aside.
Adjust rack to as close as possible to broiler and preheat broiler to high. In a large bowl, toss green beans with 1 tablespoon oil and season with salt and crushed pepper powder. Arrange in a single layer on a foil-lined rimmed baking sheet or broiler pan. Broil until beans are blistered and very lightly charred, 2 to 5 minutes depending on strength of broiler. Return beans to bowl
Using a rubber spatula, transfer Sichuan peppercorn mixture to bowl with beans. Add sugar and remaining crushed peppercorns. Toss to coat the beans thoroughly in the mixture and season to taste with more salt if desired.
Serve immediately.
For another taste of adventure try The Road to Samarkand by Patrick O'Brian a great read that winds through the Silk Road.
Enjoy!