One bite of Mofongo, Puerto Rico's signature dish, and its African roots wash over you with familiar comfort. Visiting the island this summer we fell in love with the hearty meal and knew we had to make it at home for our Chadian family. Our recipe is a blend of traditional Puerto Rican flavors with a hint of African spices.
Mofongo stems from an Angolan technique of mashing starchy foods then mixing them with fat and liquid to soften and add flavor. (Angolans were enslaved and brought to Puerto Rico in the 1500s.) According to historian Cruz Miguel Ortiz Cuada the word "mofongo" evolved from the Angolan Kikongo term "mfwenge-mfwenge," meaning "a great amount of anything at all." In his book, Eating Puerto Rico: A History of Food, Culture, and Identity," Ortiz traces its roots even further back to the West African fufu, a mash of boiled yams.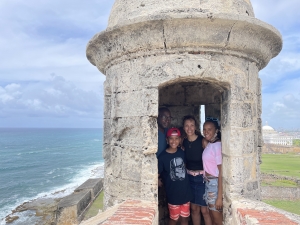 Traditional Plantain Mofongo & West African Inspired Creole Stew
Special Equipment: a deep-fry thermometer; a mortar and pestle
4 Servings
MOFONGO –  Vegetable oil (for frying about 8 cups)
4 unripe plantains, peeled, sliced ½ inch thick (5 cups)
2 garlic cloves, finely chopped
6 ounces spiced chicharron (Spiced pork rinds) 
SOFRITO (with a West African Twist)
½ green bell pepper
½ small yellow quartered.
2 garlic cloves
½ cup chopped fresh cilantro leaves and stems
2 tablespoons olive oil 
2 habanero peppers, halved, stems, and seeds removed 
Kosher salt freshly ground black pepper
West African Chicken Stew
2 tablespoons olive oil
8 ounces bone-in chicken drumsticks
1 yellow onion, chopped
1 red bell pepper, seeded, chopped 
1 14.5 oz can diced tomatoes
1 small can of tomato paste
1 cup chicken broth
1 tablespoon harissa powder (or curry powder)
1 tablespoon Worcestershire sauce
Preparation
 1. MOFONGO
Pour in vegetable oil to a depth of 2 inches. Heat over medium-high until the deep-fry thermometer measures 375. Fry plantains, turning occasionally, until golden brown–approximately 5 minutes. Transfer to a paper towel-lined baking sheet to drain. Using the bottom of a glass or small skillet, press plantains to flatten. (If you fry these a second time you would have the delicious snack–tostones.) Transfer flattened plantains to a mortar and pestle and add garlic and chicharrones; season with salt and pepper. Mash until softened and well combined.
2. SOFRITO
Pulse bell pepper, onion, garlic, cilantro, olive oil, and habaneros until finely chopped; season with salt and pepper (West African stews typically pulse tomatoes in with this mix as well but we'll add it later for more traditional sofrito).
3. STEW
Heat olive oil in a large pot over medium-high. Season chicken with salt and pepper and cook, turning occasionally, until browned on both sides,10 minutes. (Do not turn chicken until the skin lets go from the bottom of the pan.) Transfer chicken to a plate. Add sofrito to pot and cook, stirring occasionally, until fragrant and just beginning to darken about 4 minutes. Add onion and both bell peppers and season with salt and pepper. Cook, stirring often until vegetables begin to soften, about 3 minutes. Add tomato paste and let brown, 5 minutes. Add chicken, diced tomatoes, chicken broth, harissa powder, and Worcestershire sauce and bring to a simmer. Reduce heat to medium-love and cook, stirring occasionally until vegetables are tender and cooking liquid is slightly reduced, 35-45 minutes. 
Divide mofongo among 4 small bowls, pressing and molding into densely packed shapes similar to Chadian Boule, or Nigerian Fufu. 
Chop cilantro and sprinkle on stew. Ladle a piece of chicken and sauce over the top of each serving of mofongo and enjoy!
For more of our favorite family recipes try our: Chadian Spinach & Peanut Stew
Looking for similar African flavors try:
Obe Ata Stew with Chicken and Spinach
From our table to yours,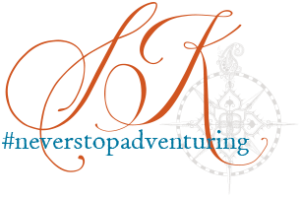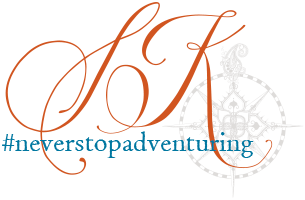 As an Amazon Affiliate, I earn from qualifying purchases.
Photo by Ricardo Dominguez on Unsplash